In The Media
Woman Entrepreneur Magazine
– June 2018
TOP FIVE MALE ENTREPRENEURS
Inspiring women to start their own businesses
Dr. Alan Barnard is the CEO and co-founder of Goldratt Research Labs, a company dedicated to intensive research on the subject of decision-making, developing methods to improve the quality and speed of our decision-making in both our professional and personal lives. Dr. Barnard co-founded GRL in 2007 with bestselling author and mastermind behind Theory of Constraints, Dr. Eli Goldratt.
Click cover to read full article

Huffington Post
– Apr 26, 2017
In Any Business Crisis, These Two Magic Words Change Everything
"Ever told yourself or were told "But that's impossible…". Dr. Alan Barnard, one of the leading decision scientist and theory of constraints experts in the world, have developed a simple but powerful technique to transform the "Impossible" to "Possible". This article, by New York Times best selling author, Michael Levin, tells the story how Dr. Barnard discovered this method and the incredible results it can generate even in a complex environment like mining".

Medium.com
– Apr 6, 2018
How To Make Better, Faster Decisions When It Really Matters
Research shows that we make about a million decisions every month — decisions about what to eat, what to wear, what to believe, and to what and whom we should give our limited attention. Most of these decisions aren't important, but there are a few key decisions that do matter. Getting those decisions right or wrong can radically affect the lives we lead, the organizations we run, and the countries we live in.
Sign up or Sign In to download Alan's articles and papers
Research articles
"What is Theory of Constraints (TOC)?" – by Dr. Alan Barnard
Challenging one of the basic laws of economics – by Dr. Alan Barnard
Exponential Population and Economic Growth Versus Finite Scarce Resources = Boom or Bust? – by Dr. Alan Barnard
The challenge of balancing supply and demand – by Dr. Alan Barnard
Theory of Constraints Throughput Accounting – by Dr. Alan Barnard
Dr. Alan Barnard PhD Thesis
How to identify and unlock inherent potential within organizational and individuals using a systems approach
Books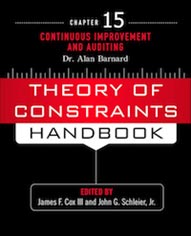 THEORY OF CONSTRAINTS HANDBOOK, CHAPTER 15 – CONTINUOUS IMPROVEMENT AND AUDITING THE TOC WAY
In this chapter of the Theory of Constraints Handbook, author, Dr. Alan Barnard shares his research insights on why so many of the changes initiated by management fail to deliver the desired improvement (typically 70% of all changes fail) and how Theory of Constraints can be used to significantly reduce this failure rate. To answer these two important questions, this chapter provides a framework for designing and implementing a continuous improvement and auditing process within organizations from a Theory of Constraints (TOC) perspective and shares some of the important new TOC developments in this field as well as make recommendations on practical ways to integrate this approach with organizational strategy and as a focusing method for LEAN, 6 Sigma and other improvement techniques.
The chapter starts with the definition of key concepts and a brief historical perspective on this subject and then provides an overview of the current gap and its and consequences related to typical errors of omission, commission, detection (to answer Why Change). It then examines the underlying conflicts and assumptions that need to be challenged (to answer What To Change), the solution criteria, direction and details of a solution to break these conflicts and prevent new undesirable effects (to answer What To Change To), and finally sharing insights on how to practically overcome typical implementation obstacles (to answer How To Cause The Change and Achieve a Process of Ongoing Improvement).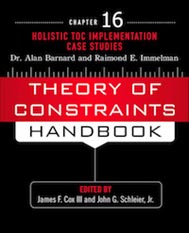 THEORY OF CONSTRAINTS HANDBOOK, CHAPTER 16 – HOLISTIC THEORY OF CONSTRAINTS IMPLEMENTATION CASE STUDIES
In this chapter of the Theory of Constraints Handbook, authors, Dr. Alan Barnard and Ray Immelman shares their experience and research insights on how to put a whole organization (not just Operations, or Distribution or Engineering or Sales) on a Holistic Process of Ongoing Improvement (POOGI) where all changes are focused and synchronized to achieve both ongoing growth, harmony and stability.
This chapter provides a historical perspective on the need for an holistic approach to implementing Theory of Constraints (TOC), an overview of the past attempts to develop such an approach and why most of these attempts have failed. Then two of the leading TOC experts in the world (Dr. Alan Barnard and Ray Immelman), each with many TOC implementations behind them, share their unique experiences and insights gained on how to achieve and sustain a holistic TOC implementation that will deliver both ongoing performance growth and improved stability and harmony through two large and complex TOC case studies – one from the Private Sector (First Solar Inc.) and one from the Public Sector (Solid Waste Management in African Cities).