We are proud to announce that Dr. Barnard will be in Marquis Who's Who this year!
From Dr. Barnard:
40 Years ago I was super excited to receive my own copy of Marquis Who's Who 1980. It took many many months of savings from my entrepreneurial efforts as a 10 year old but was worth it.
It contained short biographies and the lessons learned along the way, from the most inspirational and influential leaders, entrepreneurs and scientists from around the world.
This last week I received a call that 40 years ago I could not have imagined would ever happen to me.
"Dr. Barnard, this is the editor of Marquis Who's who. I am phoning you to congratulate you on your inclusion as a Marquis Who's Who listee. Your biography and contribution in the field of decision science will be included in our 2020 editions of Marquis Who's Who in America and Who's Who In the World".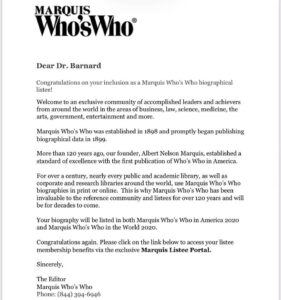 In the video below, Warren Buffett shares the impact the Marquis Who's Who publication has had on his life.
"To be able to read about the lives of these people that have been through so much … it's so extraordinary; the lessons, the discouragements they've faced, everything about them."
– Warren Buffett, Chairman & CEO, Berkshire Hathaway
Couldn't agree more …and that's why inclusion in this listing is such a humbling experience. Can only hope my biography and lessons learned would make a small contribution to inspire others.
Posted by Alan Barnard on Sunday, September 6, 2020
More of Dr. Barnard's Proud Moments: